Classes
Betsy is available to visit your school, studio or theater to teach master classes. Private and small group sessions can be arranged as well. Information for teacher training is now available.
Master Classes
The Actor's Secret Master Classes offer participants the opportunity to immerse themselves in the dynamic principles presented in the book. Taught in interactive workshops, the exercises and explorations will help develop and deepen understanding of Optimal Breathing, Suspension and Support, Performance Anxiety, Warm-up Techniques, Movement, and more. Classes are taught throughout the US, and internationally.
Current Classes
"THE ACTOR'S SECRET" – Boston ongoing
Private Individual Lessons
Individual sessions can promote transformation and rejuvenation. The sessions allow you to bring in your personal present discomfort or dilemma. As you become aware of your habitual patterns that create this condition, there is potential to stop, and inquire into.
Learn to solve mysteries in your own body. Why do I feel so tired? Why can't I stand up for long periods of time? Why do I repeatedly injure the same body part?
Begin to unravel the "mystery." Many habitual patterns have their deep roots in survival patterns that are no longer necessary or serving us. A gentle, hands on approach can disperse contractive muscular patterns associated with fixed body positions and identity. This, supplemented with inquiry (questions) can reveal your inherent capabilities and promote balance, wisdom, and love.
Ongoing private lessons available in the Boston and Berkshire area.

Contact Betsy for scheduling and pricing.
UPCOMING EVENTS
KRIPALU - November 6–8, 2019 - Wednesday-Friday: 2 nights
In an Unspoken Voice-How the Body Releases Trauma and Restores Goodness
Presenter: Peter A. Levine

Copresenter: Betsy Polatin

For everyone, including healthcare professionals and yoga and meditation teachers.The trauma response is a set of defensive bodily reactions that people initially mobilize in order to protect themselves and to avoid feeling the crushing totality of the traumatic event. However, this avoidance keeps them frozen and stuck in the past, unable to be fully present or move forward in life.
In this program, Peter A. Levine, PhD, presents Somatic Experiencing® (SE™), a body-oriented approach to the healing of trauma and other stress-related disorders. By gently facilitating the release of thwarted survival energy bound in the body, SE addresses the root cause of trauma symptoms. Through a combination of theoretical explanation, demonstrations, and body-oriented exercises, participants begin to develop a deep, intrinsic body awareness that helps to draw them into the present moment. Copresenter Betsy Polatin, an internationally recognized breathing and movement-specialist, has assisted and cotaught with Peter for many years and brings more than 40 years of experience teaching a unique combination of the Alexander Technique, Somatic Experiencing, and the healing arts of mind, body, and spirit.
Approaching trauma through the lens of yoga and meditation, you
Discover the evolutionary underpinnings of trauma and the polyvagal theory

Learn how to process trauma that surfaces during meditation practice

Enhance access to the authentic-self.
Learn how to visit, meet, and integrate traumas and emotional wounds into a meditation practice, in order to enhance and deepen the inward journey of self-discovery and freedom. Return home with SE tools and practices that are beneficial for your clients and patients, as well as for your own self-growth.
Peter A. Levine, PhD, is the developer of Somatic Experiencing®, founder of the Somatic Experiencing Trauma Institute, and author of the best-seller Waking the Tiger: Healing Trauma.
Betsy Polatin, MFA, a breathing and movement specialist and internationally recognized master lecturer, has been teaching for more than 40 years and is the author of The Actor's Secret.
May 14 - 15. BRIGHTON, ENGLAND
"TRAUMA AWARENESS FOR FACILITATORS"- A 2-DAY WORKSHOP – WITH BETSY POLATIN, MFA, AMSAT, SEP, AUTHOR OF "THE ACTOR'S SECRET"
This class will provide information that will benefit you, as well as your clients, or students. Betsy will offer an introduction to the world of trauma and explain it as a whole-body experience. And, of course, include ways that we might address it. Betsy has been studying with trauma expert Dr. Peter Levine for the last twenty years, and has had training with Dr. Bessel van der Kolk and Dr. Stephen Porges, and many other trauma experts. Join us for an informative and experiential workshop.
TRAUMA AND THE PERFORMING ARTIST-TAKE II
NEW YORK CITY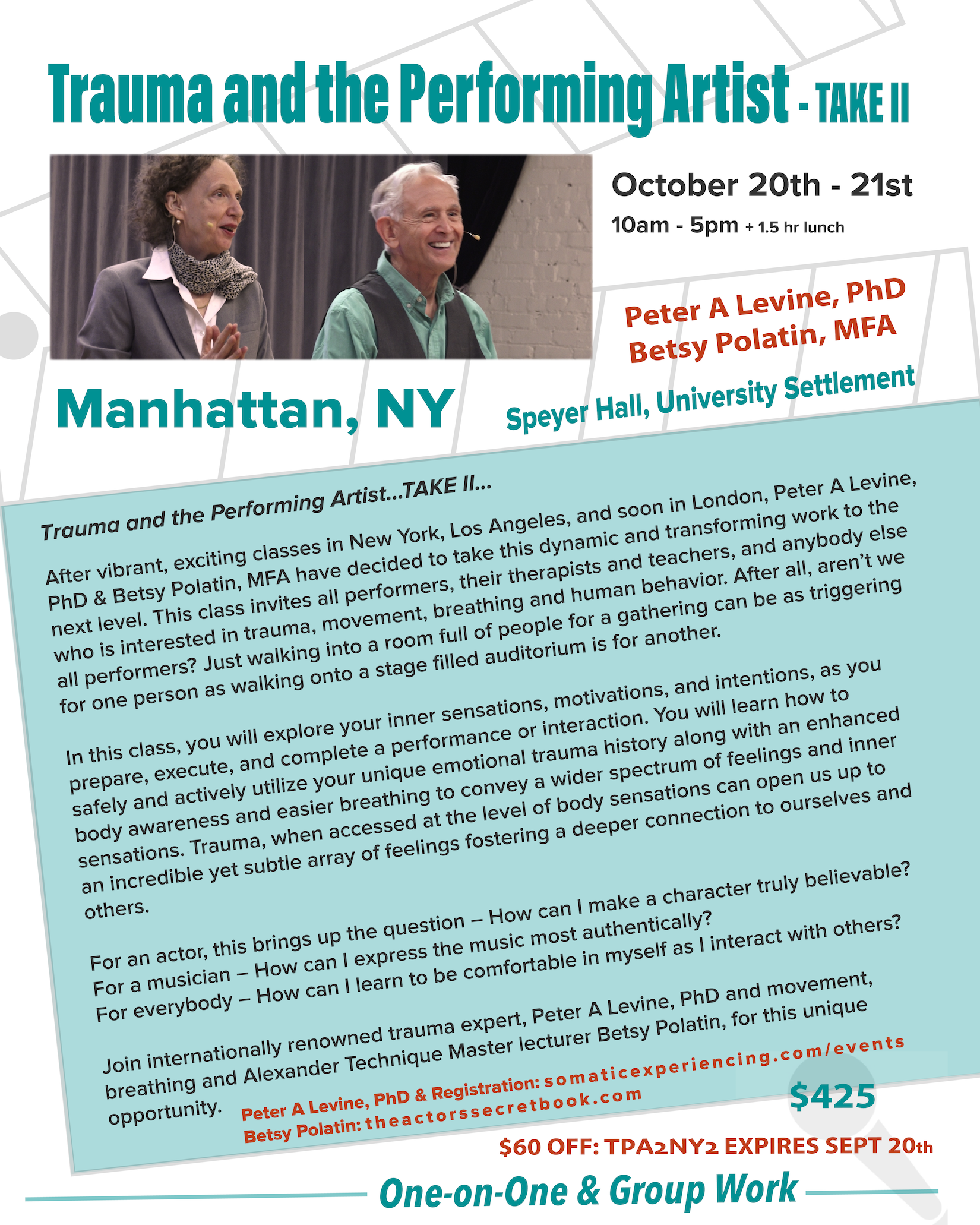 I will teach a one evening class in Los Angeles - November 1.
November 2-4, 2018
United States Association of Body Psychotherapy Conference - California - Presenting "The Actor's Secret for Therapists."
"THE ACTOR'S SECRET" – Introductory Class
In this one or two-day group workshop, you'll learn easy-to-use techniques for self-improvement from the book "The Actor's Secret." Taught by author Betsy Polatin, the workshop is open to people of all professions, and teaches some basic principles of The Alexander Technique – a practical movement-based method for self-improvement, and Somatic Experiencing – a body-based process to resolve trauma.
Through group exercises and hands-on instruction, you'll learn to increase breathing capacity, body awareness, and techniques to change inefficient habits so that you can move with ease and speak with confidence.
This class has been taught at:
Boston University, American Repertory Theater, International Congress Of Alexander Teachers-Ireland, Riverside Initiative Training-NY, Opera Institute of Boston, Tanglewood Summer Music Festival, Boston Conservatory, New England Conservatory, Berklee College of Music, BGB Acting Studio-L.A., Australia Somatic Experiencing training, Freedom to Act Conference-NYC, Performing Arts Medicine Symposium-NYC, Newport Jazz Festival, Guildhall School of Music-London, Royal Academy of Music-London, American Society of Alexander Teachers, Accademia dell'Arte-Arezzo Italy, Ease of Being Retreat, Kin Haven Music School, WABC TV-NY, Fox News, Huffington Post, National Association of Singing Teachers, Providence College, Theater Communications Group, Harvard Coop, Screen Actor's Guild, UMass-Lowell, Stage Source, Stonehill College, Boston Youth Symphony Orchestra, Sandisfield Art Center, Oxford University-UK, Cambridge Choir of England, and more.
Past Classes & Events
ASPEN, COLORADO - June 29 - July 1 - PERFORMING ARTS MEDICINE ASSOCIATION SYMPOSIUM
My presentation, "Tensegrity and Polyvagal in Performance" is scheduled for Thursday, June 29.
I will be presenting at the Psychotherapy Networker Conference in Washington DC, along with headliners Tony Robbins and Esther Perel. Betsy will be presenting an all day Actor's Secret workshop.
Advancing Global Perspectives: Making New Connections
July 29 – August 4, 2018
Betsy will be presenting at the International Congress of Alexander Technique teachers in Chicago.
29th Annual International Trauma Conference
May 30 – June 2, 2018
29th Annual International Trauma Conference. Boston Seaport.
Betsy and Licia Sky will present – Embodied Self-Experience - a full day workshop.
PSYCHOTHERAPY NETWORKER SYMPOSIUM in Washington, DC
March 22-25, 2017
Actor's Secret Training Course Group 2
May 19 and 20, 2018
Prepare Your Nervous System Classes – Boston, Los Angeles, San Francisco
Taught by The Actor's Secret author Betsy Polatin, this workshop presents principles of The Alexander Technique – a practical movement-based method for making new choices, and Somatic Experiencing – a body-based process to resolve trauma.
The class will focus on what happens to you when you appear on stage or set. You bring forth yourself with a thought, song, dance, or story. Something emerges from inside you to the outside environment.
What happens to you? What are your survival strategies around performance?
Through group exercises and hands-on instruction you'll learn to practice how: to regulate your nervous system, stabilize your breathing patterns, and create comfortable movement choices.
Betsy Polatin, an internationally recognized teacher, is a Master Lecturer at Boston University's College of Fine Arts. Her background includes forty years of movement education and performance, as well as training in music, dance, yoga, meditation, and the healing arts.

She has just returned from an around the world tour, where she has presented her unique combination of work, The Actor's Secret, which blends the Alexander Technique with Carl Stough's Breathing Coordination principles and Peter Levine's Somatic Experiencing theory of trauma. Betsy's book, The Actor's Secret, featured on ABC TV and Fox news, has received rave reviews, and is now a recommended textbook in many performing arts schools.
As a breathing and movement specialist, she has had numerous articles published in the Huffington Post.